(4305 Views) September 28, 2013 10:54 am | Published by Mr. Yuli | No comment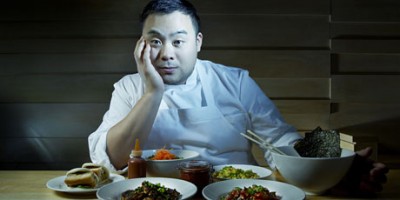 It may surprise you to learn that the Korean-American rebel chef David Chang, known for his delicious, creative food and brash, edgy attitude, majored in religion at preppy Trinity College in Hartford.
Much about Chang's background is unusual. His father, for example, wanted his son to be a professional golfer, so young David spent hours and hours on the links practicing. After graduating from Trinity, he held a couple of odd jobs in finance but mostly sat at a desk and did paperwork. He wasn't happy. He kept thinking back to his junior year abroad in London, when he ate ramen at trendy noodle chain Wagamama. And as a child, too, he had always loved noodles ("like any good Korean," he jokes). His father frequently took Chang to a noodle restaurant near their home in Alexandria, Va., where Chang was, he writes in his Momofuku cookbook, "transfixed by the guy making noodles—the way he'd weave and slap a ball of dough into a ropy pile." But Chang's father never wanted his son to become a chef. He had worked in restaurants for a time, and constantly told his son cautionary tales about the business being stressful, high-risk, and frustrating. So Chang, who had sustained himself on cheap instant ramen throughout high school and college but always had an appreciation for noodles as a culinary art, tried to quash his curiosity and focus on less risky post-college plans.
That didn't work. Frustrated with a desk job, he finagled a position teaching English in Japan, near Osaka, and was soon happier. He lived in a little town called Izumi-Tottori, where the biggest charm, for him, was the busy ramen shop he visited often. He befriended some of the cooks there and tried to learn about making real ramen, but his Japanese was imperfect and he had no training. He knew he needed a formal education in food.
Within a matter of months he called his father to say he was considering culinary school. His father told Chang he was out of his mind. But Chang's father had already dealt with his son giving up on golf, so he'd just have to deal with the foray into dining. "I knew I wasn't going to be holding forth on the conjugation of basic English verbs for Japanese kids for the rest of my life," Chang writes in the cookbook. He moved quickly, packing up and heading to New York City, where he enrolled at the French Culinary Institute.
Chang graduated from cooking school in the spring of 2000 and managed to get a good job right off the bat: line cook at the Mercer Kitchen, one of French restaurateur Jean-Georges Vongerichten's many locales. Soon Chang heard buzz about Craft, which Manhattan chef Tom Colicchio would be opening soon. Colicchio, now widely known as host of the Bravo show Top Chef, had achieved success and food-world fame with his previous venture, Gramercy Tavern. Chang wanted to work at Craft, and attempted to do so, but the chef de cuisine there, Marco Canora, said they had no room. Chang, he offered, could answer phones if he wanted.
Canora was mostly kidding, but Chang was dead serious. He came over to Craft on his days off from Mercer Kitchen and took phone reservations. While he did, he stole glances into the kitchen and tried to soak up the techniques of the crew. Soon Chang graduated to doing some knife work in the mornings; he quit his job at Mercer and kept answering phones at Craft during the day. In time for the opening, he was working there full-time, and when they began serving lunch he became a cook. He cooked alongside already renowned chefs like Colicchio, Canora (who would later become a celebrity chef in his own right), and Jonathan Benno (who would open the Lincoln, a hot restaurant at Lincoln Center).
business.time.com
This post was written by Mr. Yuli
About Mr. Yuli

Tri Yuli Kurniawan is a CEO Oketheme.com. He is developer of MagaZimple. MagaZimple is a multipurpose WordPress magazine theme with simple design so it can be used for any type of blog or website. Simple & Easy! You can buy this awesome magazine theme at www.oketheme.com