Home
»
Posts tagged 'Obama'
Archive for Obama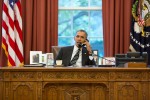 September 28, 2013 10:36 am
Politics
No comment
Their possible handshake in New York didn't work out. But Barack Obama and Iranian president Hassan Rouhani made up for it today... Read more.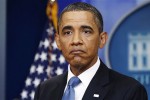 September 28, 2013 10:07 am
Politics
No comment
President Barack Obama on Friday heralded the international agreement requiring Syria to give up its chemical weapons as a "potentially... Read more.